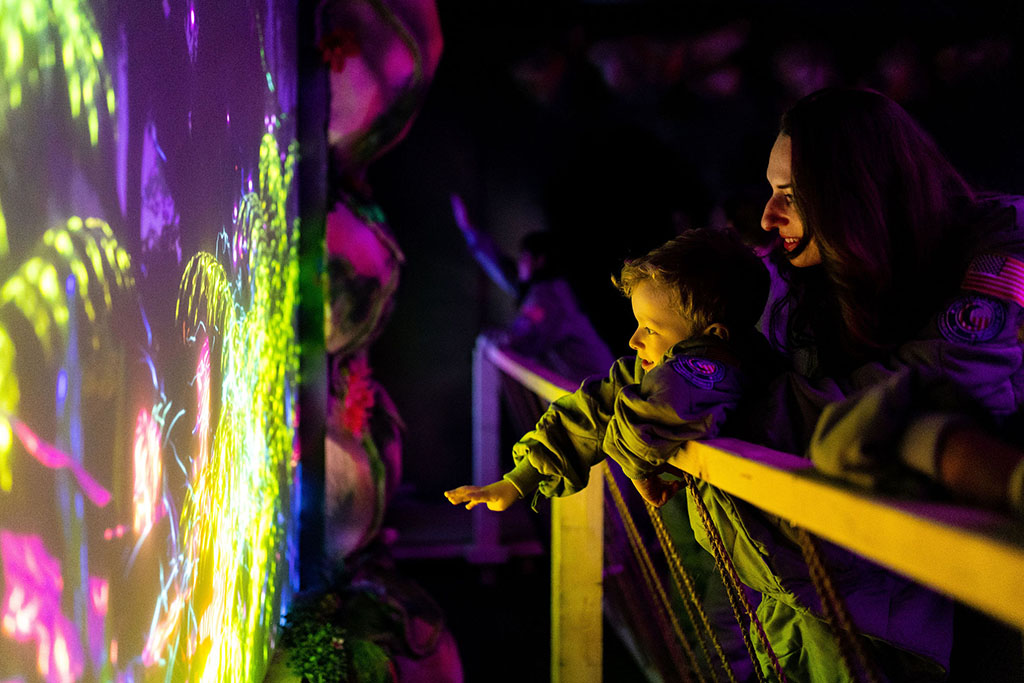 Family FAQs

Avora is a first of its kind immersive experience, where guests explore a new world and decide whether to protect Avora or mine this new wonder of its beauty for financial gain. The experience is a combination of impressive set design and the latest projection mapping technology combined with live actors and sensory challenges.
This family experience is perfect for ages 5-11 years old. Please note, all children must be accompanied by an adult.
Some parts of the Avora experience are designed to allow the audience to interact, whereas, others are very delicate. Please follow the instructions of staff during your experience and only interact and touch the set when informed it is ok to do so.
Unit 5C, 127 Hackney Rd, London E2 8GY
The experience lasts 1 hour 30 minutes from the start time.
Please arrive as close as possible to your allocated start time but ideally no more than 5 minutes early. There is no indoor waiting area so we are afraid you will have to wait outside until the start of your experience. If you are early, our neighbouring coffee shop, Music and Beans would love to help keep you warm.
If you are late to your experience and have a ticket you will still be allowed access, as long as you arrive within 30 minutes of your experience start time. Unfortunately, if you are running over 30 minutes late for your experience you will be unable to enter.
At the start of your experience you will be able to store any coats and small bags within a belongings box for your group. Please try to avoid bringing larger bags, but if essential, these can be stored.
For adults we have a wide range of jumpsuit sizes from Small right up to 4 x XL.
For children we have a wide range of bomber jackets from size 5-13 in age.
We hope you will be comfortable in these suits.
Feel free to take photos and videos of your own experience and share them. We only ask that you do not take any photos or videos of other guests and other children. We also ask not to film our actors as we do not want to spoil the experience for others.
During the experience guests will see fibre optic lighting and UV lighting but there will not be any strobe lighting.
The experience will be held indoors despite bringing to life an outdoor setting.
There is no food served during the experience, so we recommend having restaurant plans before or after. Included within the ticket price are two unique non-alcoholic drinks.
Yes, all rooms and areas during the experience are fully ventilated and air conditioned.
There will be a restroom accessible at the start of the experience, at the half-way point of the experience and also at the end of the experience. In between these moments there will not be a restroom available.
Children will have the option to wear an Official Roscorp Jacket so there are no footwear constraints. Adults will have the option to wear an Official Roscorp Jumpsuit and as such, we recommend easily removable footwear so you can put these on as comfortably as possible.
There may be a short queue whilst we intake each group. This should take no longer than 5-10 minutes. Please arrive as close as possible to your allocated start time but ideally no more than 5 minutes early.
If you would like to book for a group of 12 or more guests, please contact us at [email protected] to get in touch with your preferred attendance date and the size of your group.
Yes, all adults and all children are required to have a paid for ticket.
For special occasion bookings of 12+ guests for unlisted dates, please get in touch via [email protected] and we may be able to open the date for you to book.
Unfortunately, tickets for experiences are non-refundable. We are, however, able to exchange tickets to new dates as long over 48 hours notice is given. Alternatively, tickets are not name dependent so if someone wanted to attend using this ticket that is absolutely fine.
If you do wish to exchange your tickets and are over 48 hours away from your booking, please contact us with your ticket ID.
Yes, you can transfer your tickets to anyone for free. It is as easy as clicking "Transfer Tickets" on your ticket on the Fever App. Please contact us for additional help. Make sure to include your ticket order number.
Unfortunately, tickets for experiences are non-refundable. Ticket non-refund terms and conditions are agreed to before purchase.
You can find your ticket with the QR code in the Fever app, within the Tickets section. If you don't have it installed, you can download it from the Apple Store or Google Play. Remember to log in using the same account that you used when buying the tickets. If you still cannot find your ticket, please contact us.
Official tickets for Avora: Immersive Cocktail Experience can only be purchased on Fever. Tickets are not available on any other website or ticketing platform.
No, your contactless tickets will be validated directly in the Fever App.
Via our website, www.avora-experience.co.uk
On the Fever App, available on Google Play and Apple Store
On the Fever website
Please purchase your tickets in advance via our website. On rare occasions it is possible to purchase a ticket on the door but this is not guaranteed.
No, each of our drinks for the Avora Family Experience will be non-alcoholic.
Yes, all of our drinks served will be vegan friendly.
At the start of the experience you will be asked to provide any allergies so our team are aware. Please do so at this stage as your drinks can then be tailored to suit your needs.
We are afraid to say that due to multiple steps within the experience between key moments the experience is not wheelchair friendly.
Unfortunately babies are not allowed to attend the experience. There are no baby changing facilities and no place to store a buggy, stroller or pram.
There will be no buggy parking at the experience.
As Avora is extremely visual, many aspects of the experience are accessible for deaf people. If you are looking to attend, please do email us on [email protected] and we will try and make extra arrangements to accommodate.
Guests requiring assistance throughout this experience are entitled to apply for one free pass for their Personal Assistant/Support worker. Please contact us via https://fever.zendesk.com/hc/en-us/requests/new with proof of needing a carer ticket.
Once we receive this, we will provide you with the code of a voucher, that you can use to purchase your free Carer ticket.
Please keep in mind that you will have to show this, along with your tickets, to enter the venue. Each Carer's ticket will need to be purchased with at least one other full price ticket.
You will be seated for the majority of the experience. You will be moved between three rooms, in which you will only be standing to commute between these rooms.
We are afraid we are unable to allow any animals, including service dogs.
There is plenty of pay and display parking around the venue.
Smoking and/or vape is prohibited during the experience.